NEWS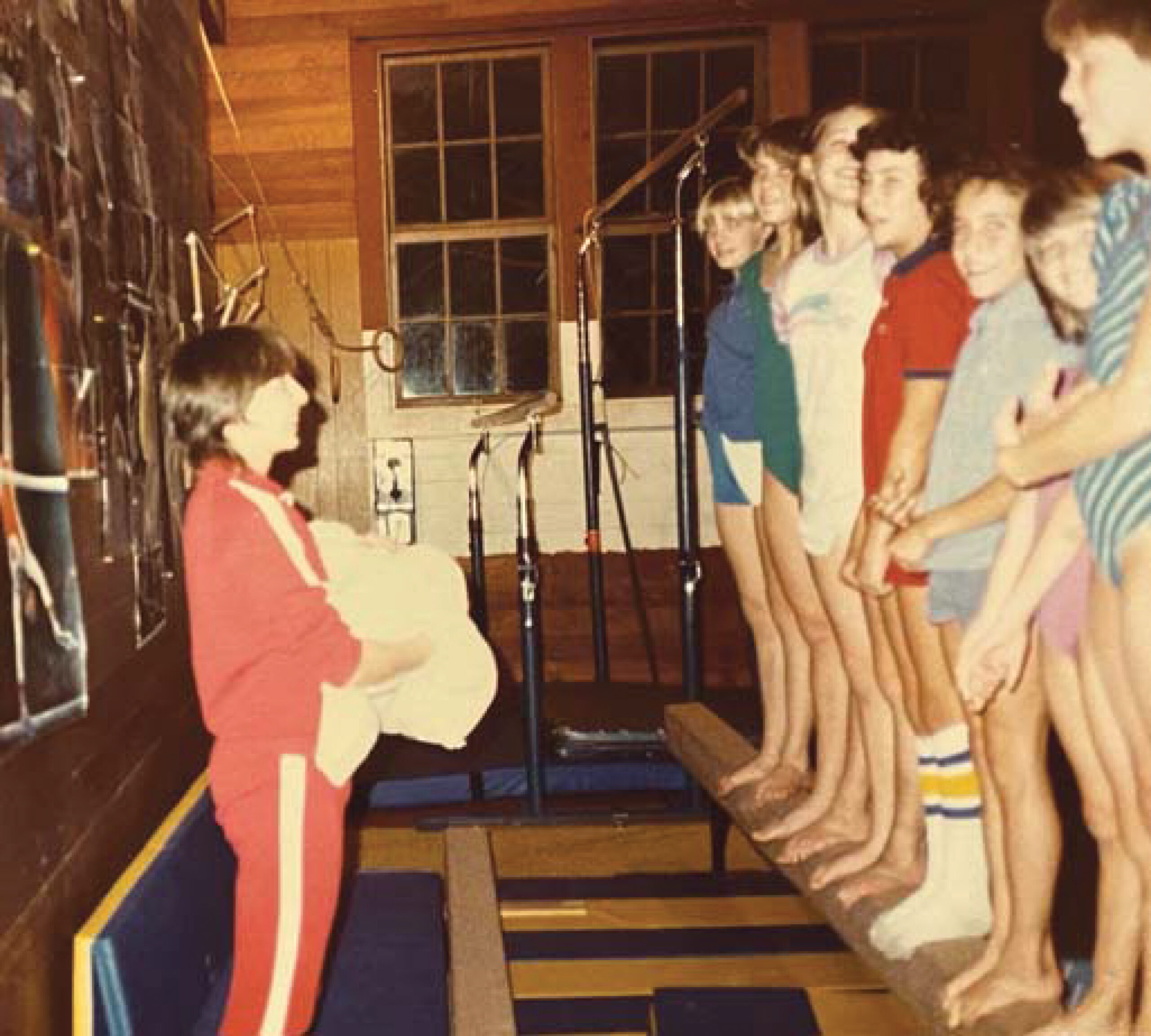 Sometimes, this family just wants to take a walk — on their hands
The Carmel Pine Cone
By Dennis Taylor
Kathleen Brady, a grandmother today, says her adult children laugh and tease whenever she spontaneously busts a gymnastics move 40-plus years beyond her days as a competitive athlete.
"I'll walk down a hallway doing toe turns from an old balance beam routine, and my kids will make fun of me," confided Brady, who was 23 in 1982, when she founded Rising Star Gymnastics in the old basketball gym at Carmel's Sunset Center.
"I'm 63 now and I still do handstands," she said. "It's in my blood." Such hematological anomalies are common among former gymnasts, and when it comes to fun-poking, Brady's firstborn child, now 35, doesn't have a leg to stand on. Kelly Brady-Favaloro, mother of two of Kathleen's grandkids, also is afflicted with hand-walking compulsions. "I haven't done gymnastics for years, but I still have daily urges to do handstands," she said. Kelly and four younger siblings grew up in their mother's gym, which relocated in 2001 to a 10,000-square-foot space at 2024 Del Monte Ave. in Monterey. So did hundreds of other kids — as many as 600 at Rising Star's peak, in the years after Mary Lou Retton graced Wheaties boxes on breakfast tables everywhere. The academy still had 375-400 students on its roster when Covid-19 crashed the party early last year.
Baby steps
Baby Kelly was in the gym five days after she was born, started gymnastics at 2, and competed through her freshman year of college at UC Davis. Her brother, Kyle, two years younger, was born on a Saturday night, and Kathleen took him to the gym the following Monday morning to watch her do the payroll. He competed through his first year of law school at UC Berkeley. "All five of my kids learned to walk in the gym with our gymnasts cheering them on," Brady said. Countless Rising Star alumni have a similar story, playing as toddlers in a parent-participation program called Gyminy Crickets, learning forward, backward, and sideways rolls, along with other skills designed to develop coordination, balance and agility. Parent-free classes begin at age 3.
"They learn how to fall. They learn how to climb. They develop strength and air awareness," said Brady-Favaloro, who took over the family business when her mom retired in 2015.
Recreational classes go to age 13, and competitive teams for all levels go to age 17. Kathleen Brady competed in gymnastics at West Chester University in Pennsylvania, but left school before graduating to pursue a coaching career at Alt Gymnastics Teachers Training Academy in New Jersey, then coached briefly in New Jersey and Florida.
The birth of a school
She visited friends in Carmel and fell in love with the town, but her efforts to find a local coaching job were unsuccessful until Rick Johnson, co-owner of Monterey Bay Gymnastics Center, told her the Sunset Center wanted to
start a program.
Brady sold them on her coaching credentials and offered to provide equipment, Sunset Center unlocked the gym, and Rising Star was christened. Brady distributed flyers and spoke at schools for four months, then greeted an inaugural class of 25 kids on June 13, 1982. By summer's end, she had 90. With in a year, she had waiting lists.
"The gym at the Sunset Center, wall to wall, was 30 feet wide, and maybe 80 feet long," Kathleen remembered. "A regulation runway for the vault is 72-80 feet, minimum, not including the vault and landing area. Our runway was 45 feet, so our kids would climb to the top of a little stairway, then sprint down those stairs to the runway."
Lauren Tyner (Carmel High, Class of '01), a Rising Star gymnast from ages 10-17, remembers traveling to their first competitive meet, where Coach Brady was embarrassed when her vaulters lined up halfway down the runway to begin their sprints. The following week, Kathleen measured out a regulation-length runway in the Sunset Center parking lot so her kids could familiarize themselves with the distance.
Jumping and jamming
The balance beam at the Sunset Center was set up in the old athletic trainer's room, where Carmel High's basketball players got their knees and ankles taped before heading onto the floor.
"I'm 5-foot-6, a little bit tall for a gymnast, and I was that tall in middle school," said Tyner, now a fifth-grade teacher in Isleton, a Sacramento delta town of 800. "There were water pipes hanging from the ceiling in the beam room, wrapped with carpet squares and foam because we had jumps in our beam routines. If I lifted my arms when I jumped, I'd jam my fingers into the pipes. We eventually put marks on the beam so we'd know where the pipes were without looking up."
The high bar, parallel bars, and floor-exercise mats shared space in the small gym and frequently had to be moved around. The still rings, for male gymnasts, dangled from the high ceiling. A balcony was the venue for ballet lessons, taught by a revolving door of Russian-born instructors.
"We were not Russian ballerinas, we were American gymnasts, so there was a significant clash of cultures, and the Russians would get frustrated and quit," Tyner said. "After we scared the last one away, Kathleen got us a ballet video to watch in the beam room."
But they learned. Rising Star athletes won state championships and reached the podiums at countless other competitions, building a trophy case full of hardware, most of which is packed in boxes today for lack of space. It wasn't all about trophies and competition. Rising Star coaches devote equal effort to recreational athletes, including special-needs children. Kids with Down syndrome, autism and various other learning differences have been part of the gym since the early days.
"I've had children at our gym whose self-confidence was so low, and there was nothing more heartwarming than watching kids like that come out of their shells," Kathleen said. "My daughter, Kelly, was a very shy, reserved kid — if you talked to her old teachers, they'll say she barely peeped a word — and now she's a confident, outgoing woman."
Tools of life
Dr. Michelle Meyer (CHS '05), a San Francisco-based pediatrician with a 1-year-old daughter, was a Rising Star gymnast from ages 2 to 13, and said the experience helped shape her into the adult she's become.
"It gave me strength, flexibility and endurance. I learned about teamwork, dedication and overcoming fear," she said. "After Rising Star, I did volleyball, basketball and track. I joined a competitive racing team when I was at Stanford and went to the 2012 Olympic trials in the marathon. I'm a doctor today. I think Rising Star played a significant role in all of that."
Five years after taking over the business, Kelly Brady-Favaloro teaches gymnastics on Del Monte Avenue with her own baby, 6-month-old Cleo, strapped to her back or chest or playing inside a doughnut-shaped mat that serves as her playpen. Her 3-year-old, Zoey, also makes frequent appearances at the gym.
"There are challenges and headaches whenever you're running a small business, but I love every bit of being a gymnastics coach," she said. "You have to have a passion for the sport, a love for children, and the desire to be a teacher. I usually get home at 8:30 or 9 at night."
Ninjas and tots
That genetic oddity — traces of gymnastics in the DNA — also can be found in the doctor and the teacher. Meyer admits she can't pass a trampoline today without performing a backflip. Tyner frequently turns a spontaneous cartwheel while walking through Isleton Elementary School.
Rising Star persevered through coronavirus shutdowns and restrictions with internet classes in March, outdoor workouts in May, small pods, social distancing, and masks during indoor classes in July. Nowadays classes are held in a 28-by-60-foot tent in the parking lot.
"As coaches, we eat, sleep and breathe gymnastics, so the shutdowns have been hard on us, too," Brady-Favaloro said. "We missed our connection with the kids, but got creative and found ways to continue teaching, either indoors or outdoors."
Rising Star's classes include Ninja Zone (ages 3-11, combining skills of parkour, free-running, martial arts and acrobatics), Parent/Tot, preschool and recreational gymnastics, tumbling and trampoline, and sports agility. A virtual learning support camp, led by a credentialed teacher, begins in September.
Additional information about Rising Star Gymnastics can be found on its website at risingstargym.net or by calling (831) 375-9335.